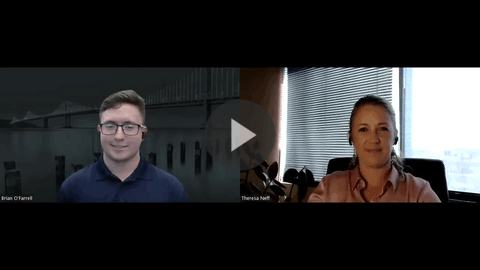 In 2021, GSC Logistics and Cal Maritime began collaborating to bridge the gap between education and experience. An internship program was developed and launched, the first of its kind at GSC. Brian O'Farrell, one of the first three interns of the program, returned to join the GSC team post-grad and talks about the program's inception.
Theresa Neff: Hi Theresa, GSC Logistics. I'm here today with Brian O'Farrell, who is part of our Talent Acquisition Team. Brian is managing a group of interns that have just started working at GSC this year but Brian, I wanted to take it a little bit back and look back on last year and try to understand how this internship actually got started.
Brian O'Farrell: This internship program actually got started. So I would say that this internship program
really got started when GSC reached out to Cal Maritime Academy, small Maritime Academy located in Vallejo, California. And, so from here both GSC and Cal Maritime work through constant collaboration and went over a three-month internship program and the opportunities that this might offer to students. So, I came on with the company and this was a brief interview process that we went through, started with two other interns and from here we worked across the company in various departments, completing various projects. And so, after I completed this I saw that there were great opportunities with GSC and I really want to come back to the company. And so, after I graduated, I came back full time working with the HR group and from here, you know, we saw the opportunity again, let's start out with another internship program, let's kind of revitalize what we did previously. And so now we're bringing in four other interns back from Cal Maritime, still collaborating with that school. However, we definitely see opportunities to work with other schools across the bay and in this local area.
Theresa Neff: That's amazing, Brian. I remember your time here as an intern. We are so happy to have you here as a full-time employee and I enjoy working with you so much. I want to get back together with you and talk a little bit more about this internship and the types of projects that it entails. But I appreciate your time today, and I look forward to speaking with you again.
Brian O'Farrell: Thank you, Theresa.