The California Air Resources Board (CARB) is deploying a sequence of regulations that will change the transportation industry indefinitely. In an effort to minimize toxic emissions from heavily operated diesel tractors CARB will enforce a Heavy-Duty Vehicle Maintenance Program that requires bi-annual inspections that are reported to DMV and CARB. Join Theresa Neff and Assistant Director of Fleet Management for a high-level overview of what the first regulation entails.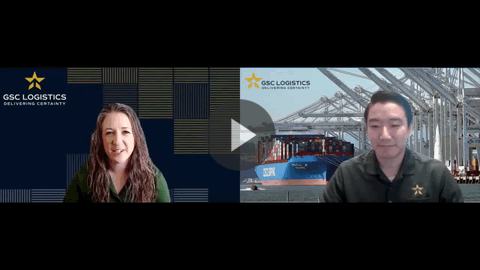 Theresa Neff: Hi, I'm Theresa Neff and I'm here today with Frank Hur, our Assistant Director
of Fleet Management here at GSC Logistics. Frank manages the compliance, sustainability and development of GSCs Fleet.
Hey Frank, how are you today?
Frank Hur: I'm doing good today to Theresa, how are you?
Theresa Neff: I'm good. Thanks for asking. I understand that there's a new regulation
up and coming from the California Air Resource Board, also known as CARB.
Can you give us some more detail on this new regulation?
Frank Hur: Yeah, sure. So this new regulation from CARB, it's called the heavy-duty inspection
and maintenance program, it's going to go into effect on January 1st of
2023. This is gonna be very similar to a smog check that you and I would do for
our own gas-powered cars. What this is going to require is all vehicle owners of heavy-duty diesel
trucks are going to get periodic emissions testing for their vehicles.
So this is very similar to the periodic smoke inspection program known as PSIP,
which is currently in effect for those for those of you that are aware
of this regulation. The heavy duty vehicle and inspection
maintenance program is going to replace this in 2024.
Theresa Neff: How do drivers show that they're in compliance.
Frank Hur: Yeah, that's a great question. So there's going to be two methods
on how to get their emissions testing. It's gonna be to depend on the
year of their vehicle. So additional information can be found on
CARB website on the exact testing requirements, but once they pass those emissions testing,
they're going to first register their truck with the on CARBs website and then
submit the results on their online and then pay the compliance speed to
receive their compliance certificate. Now, this compliance certificate needs to be maintained
in their truck at all times. And they're also going to have to show
the certificate when, when they are renewing their vehicle registration with the DMV
Theresa Neff: Thanks, Frank. That's definitely gonna be a big change for truck drivers in California.
I appreciate your time today and thank you for providing us with this information.
Please refer to CARBs website. If anyone needs additional information
about this new regulation and like Frank said, it's going to be starting in January
of next year. Thanks again, Frank.
Frank Hur: Yeah. Thanks for having me.